Naos is a national design firm that has had the opportunity to work with some of the most prominent corporate clients and
well-known
real estate developers in the country. With the support of our clients, Naos has become
well-versed
in many sectors of the industry, completing thousands of projects from Florida to Alaska. We specialize in architectural design, construction documents, interior design, site planning, master planning and extensive field verification for
remodel projects.
---
clients
Cadence
Charter Communications
Fox Fitness
Hertz
Kroger Brand Grocery Stores

King Soopers
City Market
Dillons
Baker's
Gerbes

Miller Real Estate
Nolte
RPT Realty
Regency Centers
Rouse Properties
Shane Co.
Starbucks
Viking Power Fitness
Weingarten Realty
YMCA of Metropolitan Denver
national reach
We are able to serve our clients nationwide from our Denver office and remote offices in Kansas City and Memphis. Naos Design Group LLC is registered to practice architecture in the states shown below, and we are able to secure registration in additional states, if required by your project needs.
---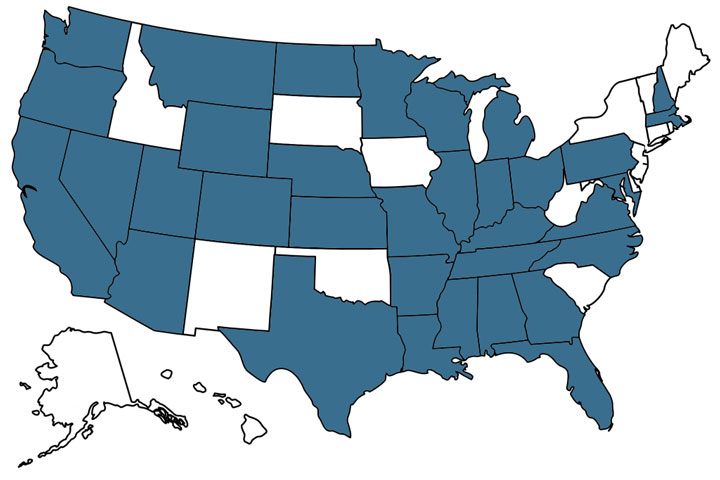 *pending state registration in process*
**additional registrations will be secured if necessary**
---
Alabama
**Alaska**
Arizona
Arkansas
California
Colorado
**Connecticut**
**Delaware**
Florida
Georgia
**Hawaii**
**Idaho**
Illinois
Indiana
**Iowa**
Kansas
Kentucky
Louisiana
**Maine**
Maryland
Massachusetts
Michigan
Minnesota
Mississippi
Missouri
Montana
Nebraska
Nevada
New Hampshire
**New Jersey**
**New Mexico**
**New York**
North Carolina
North Dakota
Ohio
**Oklahoma**
Oregon
Pennsylvania
**Rhode Island**
**South Carolina**
**South Dakota**
Tennessee
Texas
Utah
**Vermont**
Virginia
Washington
**West Virginia**
Wisconsin
Wyoming
---
leadership
Marc Breetz

Principal
marcb@naosdg.com
Marc J. Breetz is a Principal and a founding member of Naos Design Group. A native of Ohio, Mr. Breetz earned a Bachelors of Science in Architecture from The Ohio State University and a Masters of Architecture from The University of South Florida.
His primary responsibilities at Naos Design Group, include: Client Director for King Soopers and Business Manager. As Client Director, Mr. Breetz is responsible for overseeing projects from client coordination to proposals, through construction administration.
Mr. Breetz excels in new construction, renovation, and design projects ranging from retail, healthcare, master planning, site design and high-end custom residential. He has managed the completion of over twenty projects throughout the country. Mr. Breetz's balanced education in design and functionality, coupled with his experience in construction administration allows him to provide clients with attractive and cost effective projects.
Jordan Bonicelli

Associate Principal
jordanb@naosdg.com
Jordan A. Bonicelli is an Associate Principal and a founding member of Naos Design Group. Mr. Bonicelli, a Colorado native, earned a Bachelor of Environmental Design degree from the University of Colorado Boulder and obtained the degree Master of Architecture from the University of Colorado Denver.
Mr. Bonicelli's responsibilities as Associate Principal include: Client Director for The Sports Authority, SA Elite and various restaurant clients in which he manages the projects from programming and design through completion of construction. Mr. Bonicelli is the Director of Marketing and Human Resources.
Mr. Bonicelli has a lengthy background in residential, retail, restaurant and industrial construction. His extensive education, design background and diverse experience in the construction realm have given him the knowledge necessary to bring innovative solutions to the toughest of design challenges. Mr. Bonicelli's design focus is on creating a harmonious balance of functionality and form.